How to use the QQEnglish App to learn English - App Tutorial
Learn how to register and how to book the English level class of your choice.
QQEnglish App Tutorial Video
Watching time: 160 seconds
How to use the QQEnglish App
1. Download the app and select register.
2. Choose your language.
3. Enter your valid email address for the confirmation code.
4. Choose a password, and click send.
5. Enter the verification code sent to your email address.
6. Set your English name.
7. Provide the basic information asked such as name, phone number, birthday, and time zone.
8. Choose the level of the courses: Kids or adults?
9. Choose the courses you prefer.
How to reserve First Time Lesson classes
Click the reserve button.
Choose your preferred date and time frame, then search.
Choose an FTL Teacher and click reserve.
Select View My Page below, and be directed to your calendar.
Find and open your reserved lesson, you can:
Enter your lesson ahead of time;
Enter the class before the time; or
You may cancel your reservation.
After your class, gain tickets for your next reservation.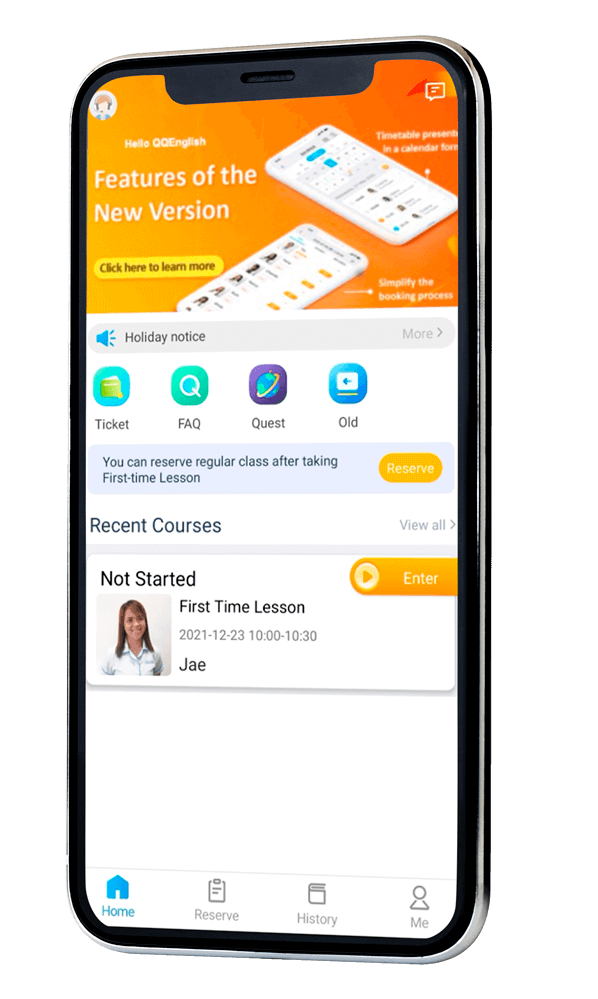 HAVE YOUR CLASSES ON YOUR MOBILE
At QQEnglish, we make learning English online convenient for you. You no longer need your personal computers when you learn with us because you can enjoy having your classes online using just your mobile phone. No matter how busy your day is, learning English with your favorite QQEnglish teacher is always possible.