Online Classes vs. In-person Classes: Which is More Effective?
As a second language learner, have you ever considered studying English in a one-on-one class setup or a group class setup? Have you ever tried attending online classes or in-person classes? If your answer is yes, then you are on the right page.
In this article, we are going to tackle some key differences between learning English in a one-on-one online class setup and a one-on-one face-to-face class setup, and which of the two is more effective in language learning. Scroll down and read more to discover.
How are online classes similar to in-person classes?
While online classes and in-person classes have notable differences, they also share some similarities that contribute to your overall learning experience.
1. They can be done in a one-on-one setup.
Students who choose this setup are more likely to learn in their own preferred style depending on the agreement with their teacher. In some cases, students make a request to have a free conversation with their teacher if they do not feel the urge to study. Students can also feel independence and convenience to express their ideas regarding a particular topic.
2. They can be done in a group setup.
Students in a group setting usually enjoy the company of their classmates. They enjoy interacting with one another and sharing ideas. Many students opt to join group lessons because they want to improve their English speaking skills by practicing with their classmates.
3. Teachers have one particular goal for their students.
All teachers teach their students because they want them to increase their learning and improve their language skills. Teachers only want to see progress in their students' learning paths. It doesn't matter if their students attend online classes or in-person classes.
4. Interaction and exchange of ideas are present.
The main objective of having lessons online or in-person is to make the students interact with their teacher or with their classmates. Students are encouraged to share their opinions or ideas in class. Teachers can say that their classes were successful if this objective was achieved.
5. They both adhere to academic standards.
Both online and in-person classes adhere to academic standards set by educational institutions. The quality of education, evaluation criteria, grading systems, and accreditation requirements are consistent across different modes of instruction.
6. Assessment and Feedback
Both online and in-person classes employ assessments to evaluate student learning. Whether it's quizzes, exams, essays, or projects, the purpose is to assess comprehension and provide feedback on student performance. Teachers strive to deliver timely feedback to students in both formats.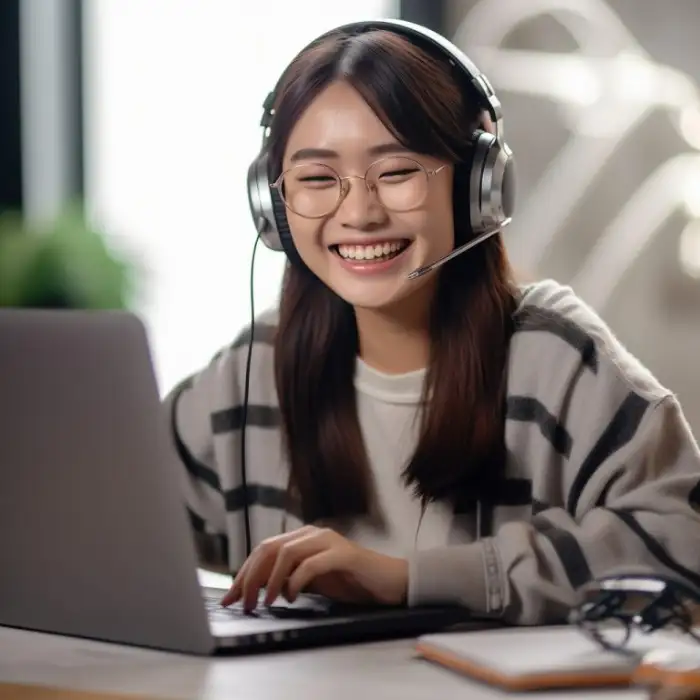 Pros
Online classes have been a trend in today's digital era. The classes are done in an online setup, mainly using a computer connected to the internet. The following are some advantages of studying English online.
Students who study English online want convenience.
Students choose their own time of learning. There are no fixed schedules to follow.
The only focus of the teacher is on the student alone. The teacher entertains questions about the lesson and discusses it with him.
The student's learning progress is also monitored and checked regularly.
Students feel comfortable when expressing their ideas as they don't feel intimidated or hesitant.
The teacher can easily give feedback on their students' mistakes without them feeling embarrassed.
There is access to learning materials anytime, anywhere.
Online classes are less expensive.
Students can learn English in the comfort of their homes.
Cons
While online classes are more convenient, they also have some disadvantages that would make students think about taking them.
Technical errors are inevitable such as intermittent internet connection or unanticipated power interruptions.
If teachers want to test their student's learning, there is a tendency of doing research that forfeits the purpose of learning.
The rapport between the student and the teacher is limited.
The teacher and the student may tend to have audio or video problems during the lesson.
It is sometimes difficult for the teacher to convey the meaning of a particular word or statement because the teacher and the student only see each other through a video camera.
The time of the class is limited.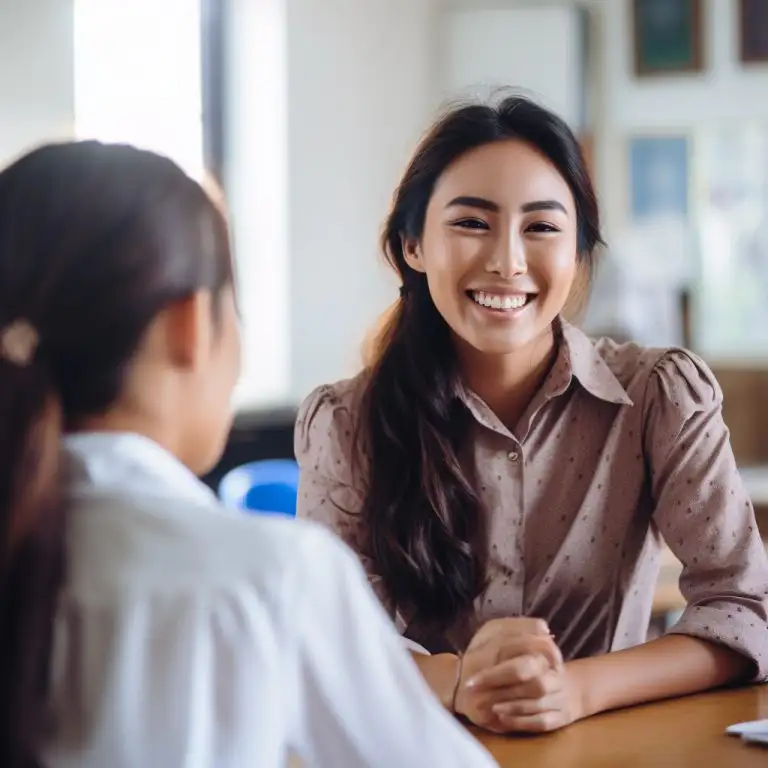 Pros
In-person classes are sometimes considered the traditional way of learning. Because of this, there are still a lot of language learners who take in-person classes because of the following advantages:
The progress of the student is concretely monitored by the teacher.
There are no class interruptions during the lesson.
It is easier for the teacher to convey the meaning of a certain word or statement because they can provide realia, show demonstrations, or perform a task.
Immediate feedback right after the lesson is given.
The student and the teacher can see each other personally.
The student can easily see the facial expression and gestures of the teacher.
Many activities can be done during the lesson as the student can participate with the teacher.
Cons
Here are some of the disadvantages of in-person classes.
Commuting to your chosen school is a challenge. Travel time is a waste.
The lesson will not progress if the student is absent.
Sometimes, the classroom environment is not so spacious.
The cost of one-on-one

in-person

classes is quite high.
Some students spend a lot of money traveling abroad to learn English.
There is a tendency of having physical touch or engagement which may cause problems.
Students, especially those with low proficiency levels, tend to be more shy to express themselves clearly in using the English language.

In-person

classes are a bit expensive.
Where can you study English online and face-to-face?
As a language learner, it is your right to choose the best option for you according to your language learning needs and preferences. When you decide to study English, whether online or face-to-face, the first thing you need to consider is the quality of service that ESL schools provide. There are a lot of ESL schools that offer online and face-to-face classes with high-quality service to their students.
If you study English in a one-on-one setup, you can opt to attend classes online or choose in-person classes. Which of the two setups do you think is more effective?
Which is more effective: online or in-person classes?
Based on the previous reading, you have learned the practical advantages and disadvantages of learning English online and face-to-face in a one-on-one setup. The main differences were also mentioned in their respective pros and cons. Now the question is, which of the two is more effective?
In today's world, digital learning is convenient but traditional learning is also fun. We cannot say which of the two setups is more effective. In one-on-one classes, both online and in-person classes are platforms where students can learn effectively depending on their method and style.
In which way are one-on-one online and in-person classes effective? They are effective when…
Students can easily understand and grasp the lesson content.
Students enjoy learning English without difficulty.
Teachers can see their students' progress.
Students apply what they have learned from their learning.
Students feel comfortable using the learned language.
There is an increased improvement in the student's English language skills even for a short period of time.
Regardless of the cost, students learn effectively through the quality of the lessons.
Students are engaged and involved in the lesson.
Online or face-to-face classes?
Ultimately, the effectiveness of one-on-one online classes versus one-on-one in-person classes depends on your learning preferences, the subject matter being taught, and the instructor's teaching style. The choice is always yours. Both are effective. You just have to think about your learning goals. Share your choice with us here!