QQEnglish Free IELTS Workshop attracts 310 students worldwide
QQEnglish has offered a 2-day free IELTS Virtual workshop to all its students last November 6-7, 2020.
Approximately about 310 students from almost 30 countries joined the online workshop. The majority of the students came from Indonesia (90), Brazil (36), Russia (34), and Vietnam (20). The QQEnglish Free IELTS Workshop also attracted other students from the Middle East, Latin America, Europe, and Africa.
Besides the free registration, the first 10 registrants will also receive amazing freebies. The freebies are (1) free IELTS mock tests and (2) a 15% discount on all QQEnglish IELTS packages.
The International Marketing Team of QQEnglish said they were happy with the success of the workshop. "Although it's just the first time, it turned out really well. In fact, this first QQEnglish free IELTS workshop even fascinated students from Swedish and Ethiopia," he said. "I am just delighted and I hope that we can do more to help students get high scores when they take IELTS soon," Yasha, one of the staff enthused.
The free IELTS online workshop aims to prepare all prospective IELTS test takers by giving them the chance to learn about how to take the exam. Moreover, the said workshop also gave IELTS candidates knowledge about the most effective strategies for the exam and several activities to let them practice each test. Apart from strategies, the attendees could also receive their individual assessment from QQEnglish IELTS instructors.
Since the start of the pandemic, QQEnglish halted its offline operation because of protocols from the government. As QQEnglish Offline faces temporary closure because of the COVID-19 health crisis, QQEnglish offered this 2-days free IELTS virtual workshops to support ESL students and to ensure academic continuity and authentic learning outside the classroom.
1st IELTS virtual workshop
QQEnglish IELTS Core team headed by Miss Luna administered the free IELTS virtual workshop. Despite their busy schedule, her team felt so honored for doing something beneficial to QQEnglish students.
"My team was anxious when we heard of this project. That was our first time, and it was tough, but I'm glad my team pulled it off," Luna gushed.
"What became so challenging to us was how to compress the most essential points about IELTS. We don't have ample time yet we need to orient with the four test types."
The free IELTS virtual workshop allows registrants to equip themselves with knowledge about IELTS Tests. Explicitly, the IELTS tests one's English ability in the four macro-skills of learning. These skills are speaking, reading, listening, and writing.
Transparently, everyone who joined the free virtual workshop enjoyed the 2-day orientation, which was divided into six sessions.
IELTS Virtual Workshop Day 1
1st Part (30 mins.): Introduction to IELTS
2nd Part (40 mins.): IELTS Listening
3rd Part (40 mins.): Guide to IELTS Speaking
IELTS Virtual Workshop Day 2
4th Part (30 mins.): IELTS Reading
5th Part (50 mins.): Guide to IELTS Writing Task 1
6th Part (30 mins.): How to ace IELTS Writing Task 2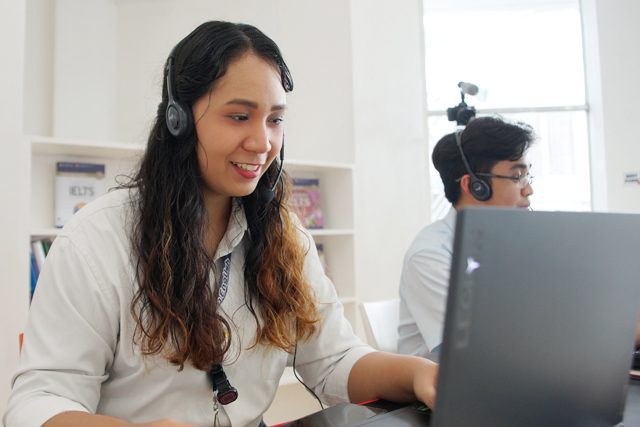 -Study, Practice, Apply, Repeat-
Miss Behati, one of the facilitators, said that the free IELTS virtual workshop was helpful to the students taking part. "During the entire session, I can really feel the excitement of every participant. I can say that they really want to learn more about IELTS," Miss Behati enthused.
"I believe these students did not miss this opportunity because IELTS is a life-changing exam. And what we gave during the workshop would help them get their desired band score. Besides the orientation, we also give them the most effective tips in each test type. We are happy with the result, and we can't wait to see them flying with colors soon."
Moreover, Miss Behati clarified that IELTS is not a difficult exam to ace. However, one wrong move can completely affect your overall score.
"To score high in IELTS, focus and presence of mind are very important during the exam. Also, you need to remember that IELTS requires lots of practice. If you want to pass it, you got to remember these: study, practice, apply, repeat," she concluded.