A Teacher's Sacrifice during the pandemic: QQEnglish Diaries
"I am here for my family's future, and for my students who needed my cheer and my presence during the pandemic. This is my passion and my teacher's sacrifice to my students who I truly cherish."

-qqe-Scorpio
A Bittersweet Story of Sacrifice
She wakes up as early as 5 AM to get ready for work. Her eyes are tired and her stomach's empty. Though sleepy, she must wake up because she needed to work again. She hates early shower but she must endure the cold water to keep her awake. Afraid of being late, she quickly puts on her school uniform and rushes to her office station. She misses her family, whom she hasn't hugged for five long months now. It sounds so heroic. But truthfully, it's a bittersweet story of a teacher's sacrifice.
Teacher Scorpio, 36, is just one among the 1, 300  plus QQEnglish teachers' who sacrifice being with family amidst the pandemic all because of her chosen vocation. As a mother of two children, life has been different and difficult because of the pandemic, however, life must go on. The crisis has been a twist of fate and a battle she needed to face. Her story is a tale of a teacher's sacrifice for her students who she hasn't met yet and would possibly never meet.
According to her, to not see her 8-month-old son take his first walk and not hearing him say his first word in person was sad. She should have been there that time her son uttered the word 'Mama', but sadly she wasn't around. "I am here for my family's future, and for my students who needed my cheer and my presence during the pandemic. This is my passion and my teacher's sacrifice to my students who I truly cherish," she confessed.
Sometimes, Scorpio would just cry and wish how amazing things were before the pandemic. She already missed the feeling of being hugged by her loved ones before she leaves work and when she arrives home from work. But everything's changed, and the pandemic has taken what she once called a "good life."
"Despite what's going on now, I am very thankful for the chance QQEnglish has given to me. I miss my family, but somehow, my family will suffer if I will not sacrifice.
All I can do now is to be strong for them and to be an inspiration to all my students. I am happy that my sacrifice being a teacher has been the reason for my student's happiness," Scorpio stated with a smile on her face.
This passionate teacher is a Kid's favorite. For five years now, Teacher Scorpio has changed young learner's perception of online English language learning. According to her, it's very fulfilling to know that some students keep coming back just to have her as their English online teacher.
"It's rewarding, and it fills in the emptiness of being far from home. Being an online English teacher for kids gives me a satisfying feeling of being a teacher and a mother. Sometimes, I feel like teaching my children because they resemble my children. It eases my loneliness and I believe this is the price of becoming an online English teacher."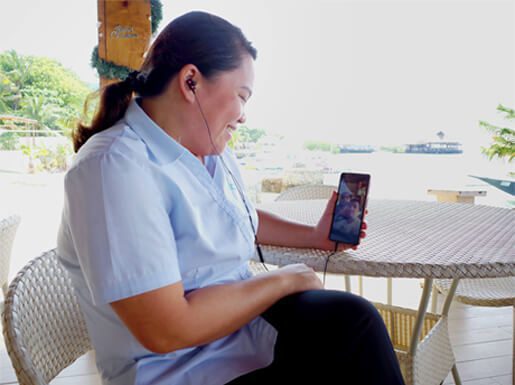 Unlike many schools, ESL students can learn English online using fun English lessons to learn in QQEnglish. Every day, Teacher Scorpio gets very excited to teach the sounds of English words to her ESL students. She also finds it interesting to teach basic English grammar and unfamiliar words. And above all, she likes it so much when she reads English stories for Kids and sings English songs together with young English learners.
"Teaching young ESL learners online is just so de-stressing. It fills my heart with pure delight when I see young ESL students enjoying my class. I feel like I am just having an online English class with my children at home. Instead of feeling tired, I suddenly become energized because I see my real children in them," the committed teacher shared.
Scorpio is just one of the many teachers who chose to sacrifice leaving home for their students during the pandemic. She is one of the millions of ESL teachers who continue to help ESL learners to have a better future. In this time, where learning English seems difficult, Scorpio is among those Education Heroes who remain unmoved by the test of time. In this time of crisis, teachers are Heroes far from home to support online English education and make digital learning fun and effective.
Even though she badly misses home, Scorpio is optimistic and hopeful for the cure. She never loses hope that a vaccine will be available soon. Just like other teachers on quarantine for months in QQEnglish, she can't also wait to be back home again. She is excited to be spending time again with her loved ones. But in the meantime, all she can do is to do her best to empower her students' future by teaching English online.
Together with other teachers, Scorpio must still wake up at 5 AM to get ready for work. Despite her tired eyes and sleepy head, she must take her early bath and endure the cold water. With a hungry stomach, she must work because her students are all excited to see her in their online class.
For Scorpio, being an online teacher is not just about teaching the lesson. But it also entails sacrifice by going the extra mile in everything you do so that students will learn to love learning. Teaching is a vocation that changes one's fate and brightens one's future. Having taught English online for more than a decade, Scorpio believes that there is a thin difference between the words' sacrifice and a teacher's sacrifice.