QQEnglish is the biggest English school and it provides English speakers with an English-thinking brain.
The Callan Method is a different and unique learning method in order to accelerate your learning speed and understanding of the English pattern.
For 50 years now, and having started in London, the Callan Method is respected all over the world. QQEnglish is the first Japanese capital English school authorised by the Callan main office.
Well trained and professional teachers instruct you.
Beginner (textbook of level 1)
Intermediate (textbook of level 3)
Students reply smoothly and rapidly from teachers' rapid questions
This is the repetitive method including rapid questions, rapid replies, and supported replies.
All questions are good for practicing grammar and vocaburary when you reply, as they are focused on chosing the correct grammar and vocaburary.
Teachers rephrase students' mistakes by answering together.
In this situation, students always need to be careful what teachers say and by replying rapidly with teachers' support, students don't have any time to translate their mother language. With this, students unconsciously reply in English and their brain will be formed as an English brain.
Process of the Callan Method Lesson
Learn new grammar and explanations by listening to
Review previous lesson (70% of lesson is composed of this)
Reading textbook for checking how students understood
Dictating what teachers say for checking spelling.
What kind of people should take the lesson?
Completely new beginners are welcomed
There are 12 stages in the Callan Method and all of them start at stage 1.
For stage 1, it's fundamental English so completely new beginners can also try it.
For stage 12, it's advanced English so any level can apply to the Callan Method.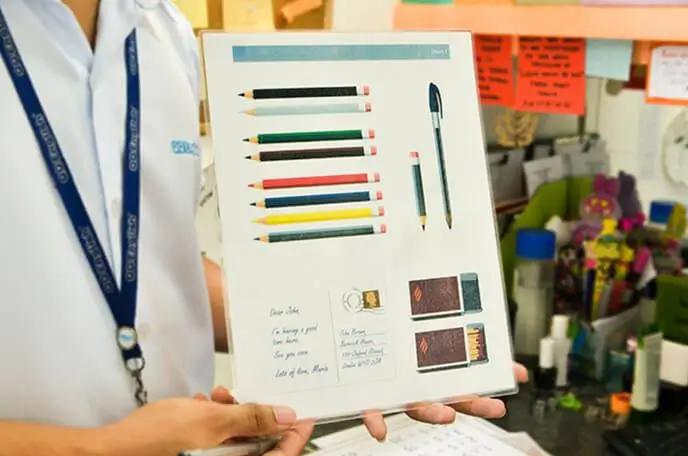 The method is good for those who are not confident with English, although they have studied English very seriously.
English conversation cannot be trained by freedom conversation.
Callan Method is not the free conversational lesson, but it's for speaking an enhancement lesson. It's difficult to learn many things by talking freely based on the grammar skills that you have.
When you speak in Callan lessons, you will automatically use new vocaburary and structure of English, so you can learn more than other lessons and practical English.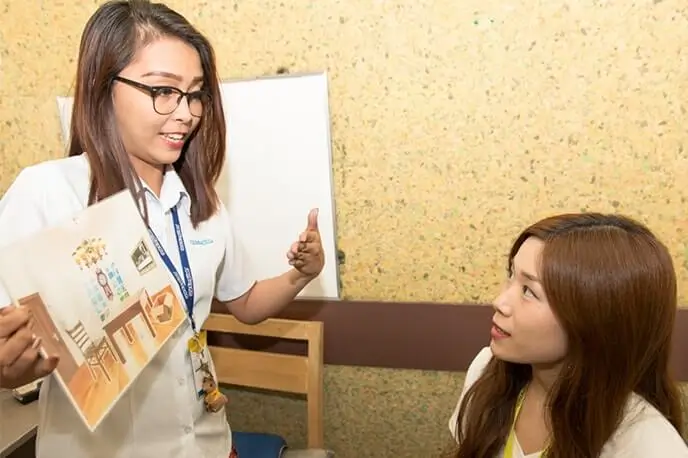 Great effect for those who take any English test
Contents of Callan Method contain a variety of vocaburary and grammar. They are also throughly created for in-demand English tests such as TOEIC.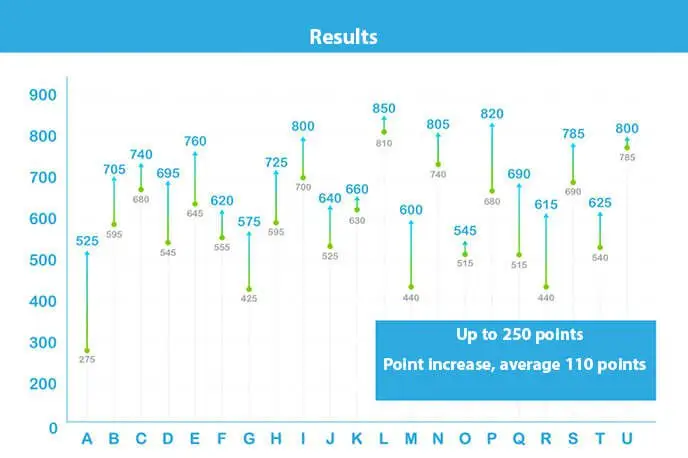 The reason for the effect of Callan Method
This is the training for reflexes and articulatory organ which operates pronunciation and speaking in order to speak English.
It turned out that we need to use a wide range of our brain and our articulatory organ for those who speak Japanaese as their mother tongue.
On the other hand, the Japanese educational system focuses mainly on vocaburary and structure of sentences. Japanese lack training for reflexes and articulatory organ which operates pronunciation and speaking in order to speak English.
The Callan Method was created in the U.K. as the brilliant method of training for your effect of the articulatory organ. The method is used around 30 countries and QQEnglish is the authorised school.
Improve 5 parts which most English learners are not good at:
In actual conversation, you can only reply yes or no but you need to reply in full sentences in a Callan lesson. In order to do so, you can learn proper grammar skills.
2. Proper usage of articles
It's difficult for English learners to use proper articles, namely "a" and "the" but by practicing again and again, you can use them smoothly and without thinking.
3. Proper usage of English tense
In English conversation, distinguishing tense is an essential skill. In order to use tenses properly and without confusion, you can learn them by repeating in the Callan Method.
Such as "L and R", "S and TH", and "B and V", practice pronunciation especially in the areas English learners are not good at.
5. Listening to Native speakers
You can train your practical listening skill such as "I'm" and "You're" which are commonly used by native speakers.