Trust us like 300,000 students
from more than 16 countries
around the world
GET 3 FREE 1 ON 1 CLASSES NOW!
You have 1,300 TESOL-certified teachers to choose from. Enjoy your class with your teacher and improve your English skills.
All your classes are one-on-one, so you all have the teacher's time and attention during the lesson.
Our multinational Customer Care representatives are available to assist 24/7 to ensure 100% class satisfaction.
Learn English 24/7. Choose your class at any time of the day and have the class at your most convenient time.
We offer various courses suitable for different age groups. Choose the lesson perfect for your age and English level.
You can enjoy our online classes wherever you are in the world.
What is the feature of service?
Have your English Level checked by a Real Teacher!
How to attend your classes?
You can use a personal computer or mobile phone to attend your classes.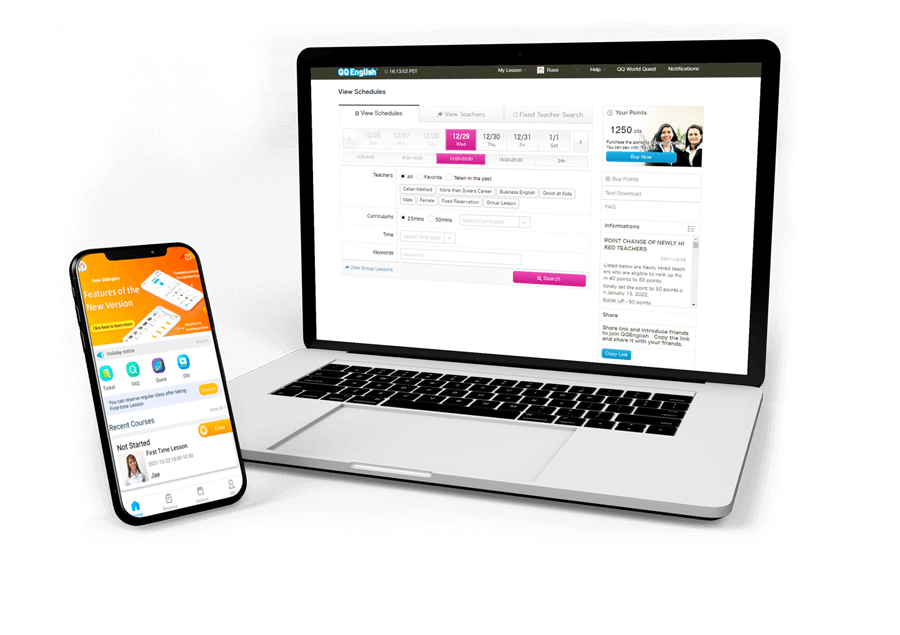 TRY 3 FREE CLASSES FOR FREE
Before I could not hear and say any words in English properly. That is why at that time I wanted to find an English center to help me to improve my English skills faster. But I I could not apply to the English center because my work is very busy. I think I got lucky when I found QQEnglish. They can give me a solution that I can learn English online, I can learn anywhere, anytime I want. After one month, I'm confident to tell you that my pronunciation, English grammar, and listening skills are becoming better.
Dat
Vietnamese
Why did I choose QQEnglish? Firstly, I was attracted to the price. Secondly, in the Philippines, English is the second official language. That is like studying English with native speakers. In my opinion, this is an amazing opportunity. Moreover, we can make our own schedule and choose our subjects. The aim is to improve the skills we need. In my case, this is speaking. My favorite class is a Callan lesson. It speeds up speech, and it really works. You must quickly repeat what the teacher says and answer his questions quickly. And this gives amazing results in just a few lessons. Learning English online is a great opportunity!
Darya
Russian student
I'm going to share my real experience studying English at QQEnglish. After one month of studying English at QQEnglish in Cebu, Philippines Covid-19 began. I and all of my friends had to go back to our countries for safety! So I continued studying English online at home. My favorite course is the Callan Method. In this class, you can improve your listening, speaking, reading, and writing skills at the same time! Lastly, I confidently recommend QQEnglish online classes to you. It's the best choice for everyone to learn English. No need to travel abroad and get 100% results.
Da Da
Thai student
My name is Gabriel, I want to share with you my experience in QQEnglish, a Japanese school based in the Philippines.
I chose QQEnglish because the teachers are very well trained and speak with an American accent and the prices remain quite cheap.
To learn English, I recommend you QQEnglish.
Gabriel
Colombian student
Get 3 free classes right away!
Limited only for 59 register students
Most frequent questions and answers